INTRODUCING LANEY JOHNSON, TRAVIS WILLIAMS & MS. JENKINS
In a world where social media is the number one way to spread messages, sell items and communicate across the globe, it is no surprise that the Tri-State has produced several top social media influencers out today.
Meet Laney Johnson, creator and craftsmen at Pine and Birch – a small-batch, unique décor online shop. With a strong background in all things power-tool, this area entrepreneur has built a massive following using a combination of skill, creativity and social media.
"In the beginning, I started making signs on Etsy, but it was hard because back then Etsy wasn't as big as it is now," said Johnson.
After some time, Johnson switched her personal Instagram account to her shop name (@pine.and.birch), stating it was a lot easier to grow because of the huge home décor community.
"I'd collaborate with clients on a design, and they'd send me pictures of my designs in their homes," she said. "They'd tag me, and that's how I started to gain followers."
Originally, Johnson started with a vinyl cutter and hand-painted all her own designs. Later, she added a scroll saw and, eventually, laser cutter machines to streamline and perfect the process.
"I think back to when I first started. If you would have told me I'd be cutting signs with a laser beam, I wouldn't have believed you!" she laughed.
Over time, Johnson has worked with companies like Painted Fox Home, been photographed in HGTV Magazine, and made signs for swag bags at the CMT Music Awards. She states her most proud accomplishment is an artistic piece created from bourbon barrels, depicting the champion racehorse Secretariat. This piece is now on proud display at Secretariat's former home Claiborne Farm, located in Paris, Kentucky.
To date, Johnson has an Instagram following of more than 93,000 followers, a Tiktok following of more than 32,000 followers, as well as a shop on Facebook where shoppers may purchase items hand-crafted by Johnson.
When asked what her top priority is, Johnson says," Growth is great, but I'm not worried about more growth. I'm most concerned with satisfying my current community."
Find Johnson on TikTok and Instagram (@pine.and.birch) and on Facebook (@pineandbirch)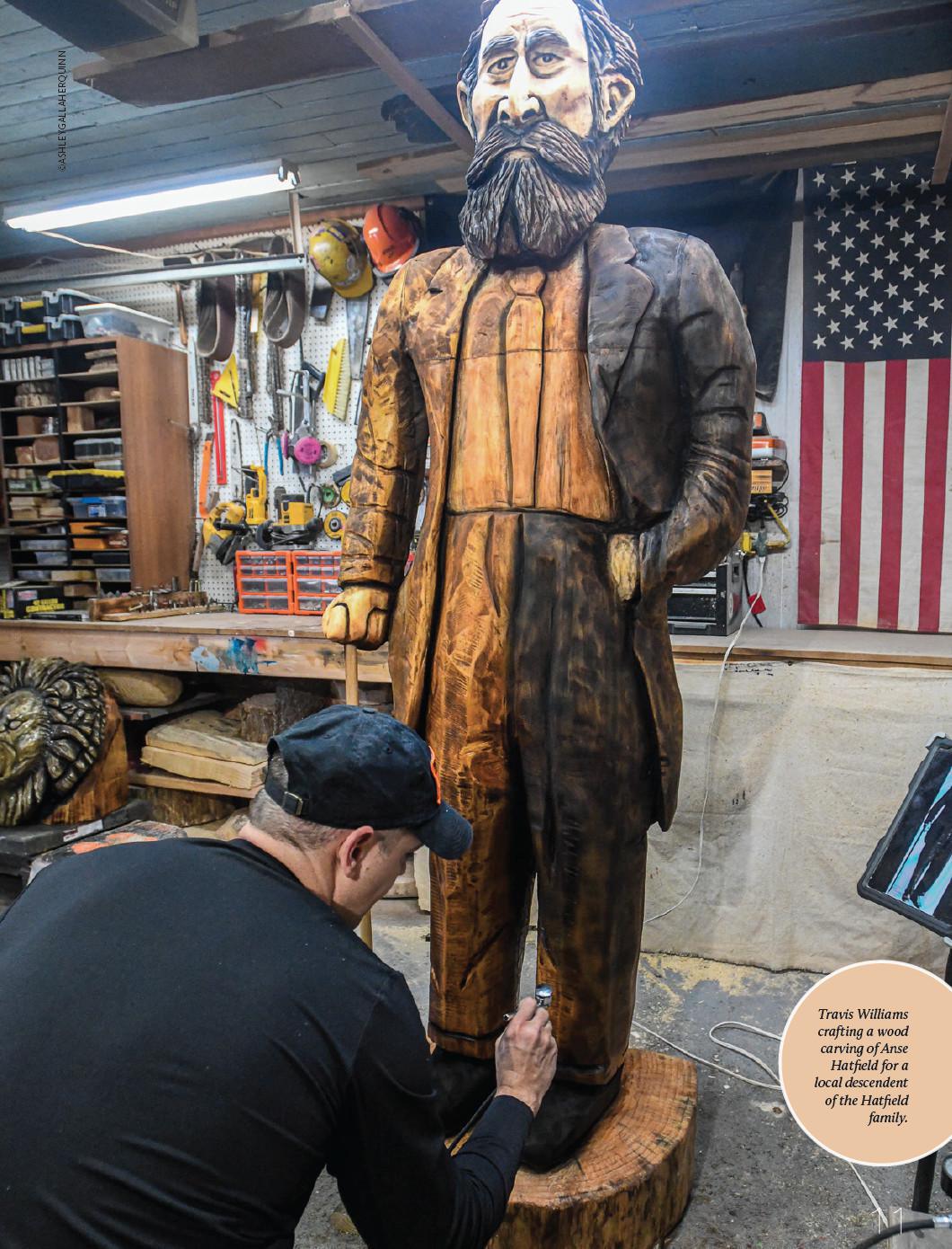 Meet Travis Williams – research lab worker by day, chainsaw-carving craftsman by night.
Approximately five years ago, Williams derived his muse from a chainsaw carving purchased by his sister.
"I had been to Gatlinburg, Tennessee, and watched a live chain saw carving show but quickly forgot all about it until my sister showed me the carving she bought. I thought, 'I can do that!'"
Williams states he has always had a Facebook and Instagram account, but two years ago his nephew encouraged him to get TikTok and make carving videos.
"I downloaded the TikTok app, posted a video, and a few weeks later the video went viral," he said. "I woke up one day and had 50,000 followers. Now I have more than 500,000 followers on TikTok!"
Because Williams has been so successful, TikTok has now placed him in their Creative Portal – an online hub full of educational
resources to help other creators learn how to better connect with their audiences.
"People just want to see videos," said Williams.
Williams said his videos have no words, making them visual only. He picks an appropriate song to correspond with the piece he is creating.
Williams built a website to go along with his social media accounts, so when he finishes a piece, he places it on his site, and it sells almost immediately. "I used to carve mostly wildlife, but now, I do pop-culture items that will relate to a lot of people."
"I do a lot of Disney characters," Williams said. "This broadens the appeal to other countries. The last Bugs Bunny piece I carved went to Israel."
The first piece Williams ever carved was from a dead tree in his front yard. "It was awful!" laughs Williams. "So awful, I keep a picture of my first carving and compare it to the ones I do now so I can see how far I've come."
Williams encourages others to give chainsaw carving a try, stating he never intends to have the chainsaw carving market cornered and would be happy to help anyone begin to learn.
"The key is practice," Williams said. "Practice doesn't always make you perfect, but it always makes you better!"
Find Williams on TikTok, Instagram and Facebook (@Trav_Carves)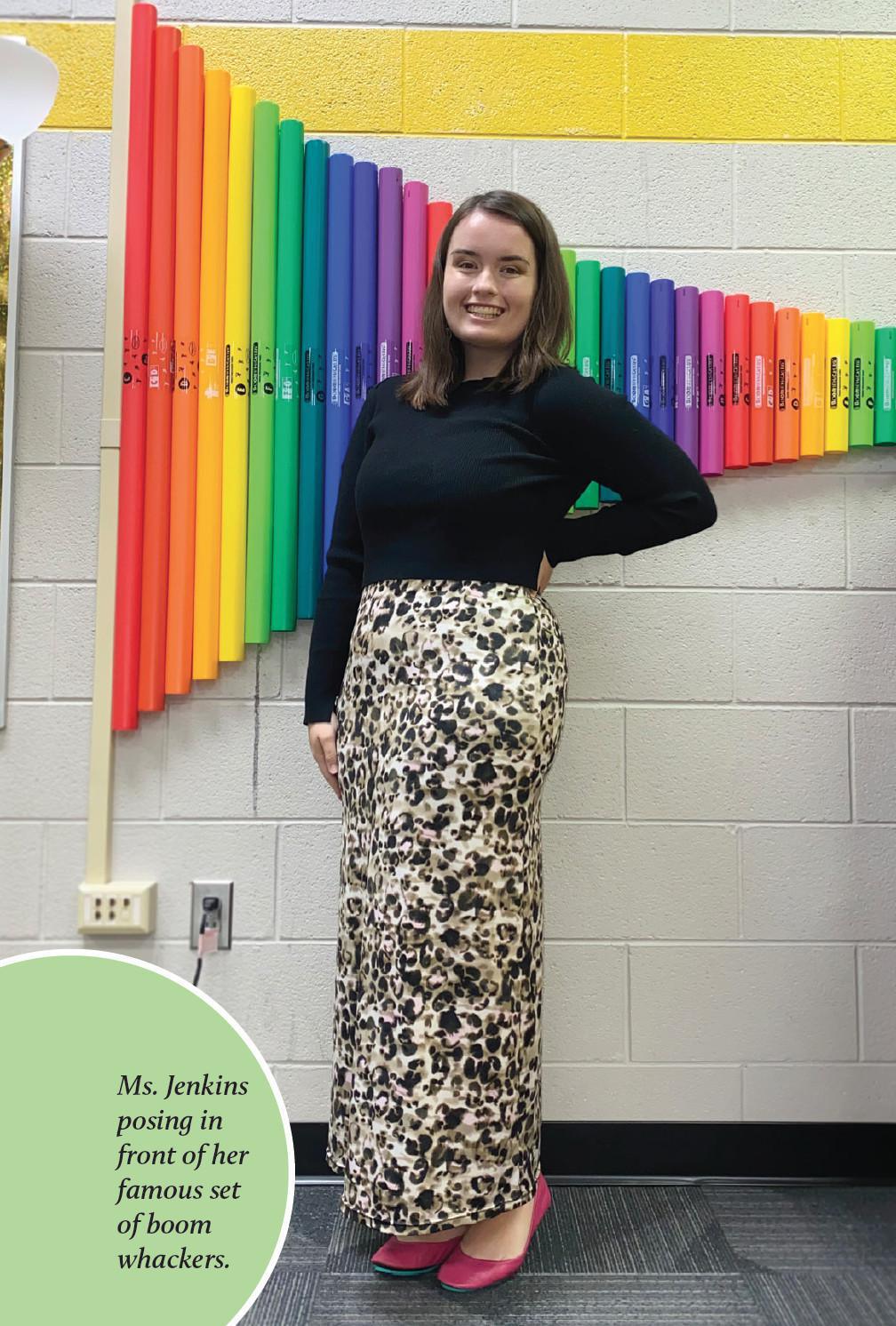 Meet Ms. Jenkins – an elementary school music teacher sensation! Originally from our area, Jenkins confessed she grew up wanting to be a doctor.
"I was so focused on my grades and felt like I needed to become a physician or high-profile lawyer. However, I was a drum major during my high school years, and it was then I began thinking about a career in music."
Jenkins says her band director and his wife were instrumental in encouraging her to pursue music education. In college, Jenkins studied instrumental music education for her undergrad and is now in her second year of elementary school teaching.
"I always knew I wanted to have a teacher Instagram and Tik Tok account when I started teaching, so I opened an initial account a while back," Jenkins said.
"For about a year, I didn't post much, but then I decided to rebrand to (@thechromaticmusicteacher). Chromatic means color and is also a scale in music, so I switched everything over to that."
In April 2021, Jenkins gained approximately 5,000 followers. Per her testimony, Jenkins had prepared and edited a Happy Birthday video on TikTok using boom whackers – a lightweight, color-coded, musical instrument in the idiophone family, tuned to a musical pitch by length.
After posting the video described above, that next morning, she awoke to 100,000 TikTok followers. By September of that same year, her TikTok following had grown to 1 million and by January 2022, she passed the 2 million follower mark. To date Jenkins has 2.2 million followers on TikTok and 118,000 followers on Instagram.
"Sure, there are people who say negative things, but my favorite people are the college students who say I'm inspiring them! It makes me feel like I have a bigger purpose than just making fun videos."
Jenkins says she tells these student-followers that just because she has a big following, it doesn't make her an expert teacher. She is transparent about the fact that she has only begun her teaching career during the Covid-19 pandemic but knows her experience and
success during a world-wide crisis, will help other teachers figuratively and literally graduate more hopeful into the new world we live in now.
In addition to teaching, Jenkins says she is plugged into influencing full-time. She is now a part of the TikTok Creator Fund – a fundreceiving program creators benefit from based on a variety of factors.
"It's so nice to have the extra income teaching music in both places and doing what I love," Jenkins said.
Follow Jenkins on TikTok and Instagram (@thechromaticmusicteacher) and on Twitter (@chromaticteach).