Mulberry Family Farming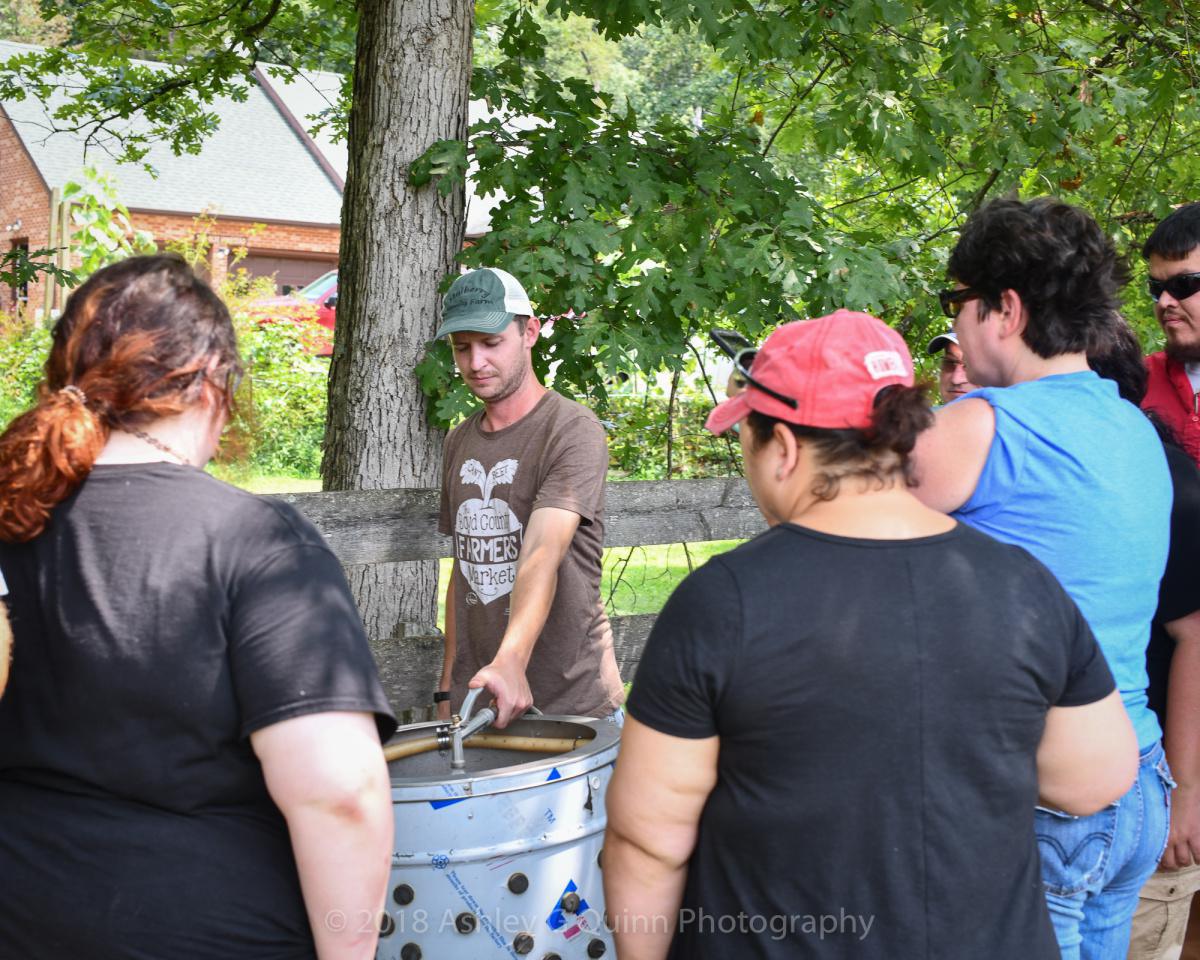 The farm-to-table movement is gaining momentum here in the Tri-State. Farm-to-table fare generally implies that a chef has attempted to stay local when obtaining his or her ingredients, sourcing meat and seasonal produce from local farms and suppliers. This ensures that the restaurant not only knows exactly where their products are coming from, but that ingredients are fresher than they would be otherwise due to the decreased time between picking/processing and the ingredients making it onto your plate. Eateries featuring farm-to-table goods also usually serve more organic options than their mainstream counterparts.
Mulberry Family Farming in Ashland, Kentucky, is located about 20 minutes from downtown and is putting its own unique spin on the farm-to-table concept. Mulberry launched in January of 2014 when Casey Muncy returned to Ashland after becoming involved in agritourism in both Belize and Gainesville, Florida. Casey is a 2007 graduate of Paul G. Blazer High School and studied agriculture at the University of Kentucky. While Casey was awaiting an assignment from the Peace Corps in Central America, he decided that rather than staying abroad, he wanted to put his agricultural skills to use at home. Casey now serves as the head farmer and manager of Mulberry, along with his father and CFO Jeff Muncy, his mother Pam Muncy, and his great uncle Robbie Beard.
Mulberry grows its ingredients without the use of synthetic pesticides, herbicides, or fertilizers. Each summer month produces a different yield of crops; August, for example, is expected to produce fresh okra, squash, mustard greens, zucchini, onions, peppers, and sweet potatoes. The farm also features a host of livestock, including free-range chickens, sheep, rabbits, and horses.
Mulberry not only features its fresh ingredients at local farmers markets, but also during its farm-to-table events during the summer months. Mulberry is in its fourth season of offering these events, which showcase local chefs and musicians. They also offer a four-course menu featuring ingredients picked straight from the farm. Tickets also include a behind-the-scenes tour of the property immediately preceding dinner, where visitors have an opportunity to see exactly how their ingredients for the evening were cultivated.
While the dinner is beautifully decorated, the food is truly the star of the show. Mulberry's farm-to-table fare is prepared by Chef Paul Runnels, former head chef at the Chimney Corner Café, with assistance from Sarah Parsons, Pam Muncy, and a host of volunteers. According to Casey, the events are truly a team effort. Sarah is a graduate of Ashland Community and Technical College's culinary program, while Pam has years of experience in catering and cooking for large groups. Menus feature fresh meat and produce sourced directly from the farm and can include such items as fried green tomato pie with fresh basil and a spicy sriracha crema, creamy risotto infused with shitake mushrooms grown on logs at the farm, and warm mulberry cobbler with fresh-picked berries and a raspberry whipped cream. Of course, the menu depends on what is in season at the time the dinner is served. Mulberry hosts other events throughout the year as well. In May, Mulberry featured a Mothers Day Brunch, and in August, it will participate in a vegetable field day along with the Boyd County Cooperative Extension Office.
To the Muncys, the experience is all about spending time around the dinner table and sharing meals with friends and family. "We needed to reinforce the importance of eating a meal together," Casey says. All of the ingredients featured at Mulberry's farm-to-table events would be included in dishes served on the Muncys' own dinner table. To the Muncy family, their decision to start Mulberry was not simply about making a living, but establishing a lifestyle. According to Casey, "We're doing things that may not be the easiest way just for the joy of it." Their joy and passion is certainly evidenced through the quality of their products.