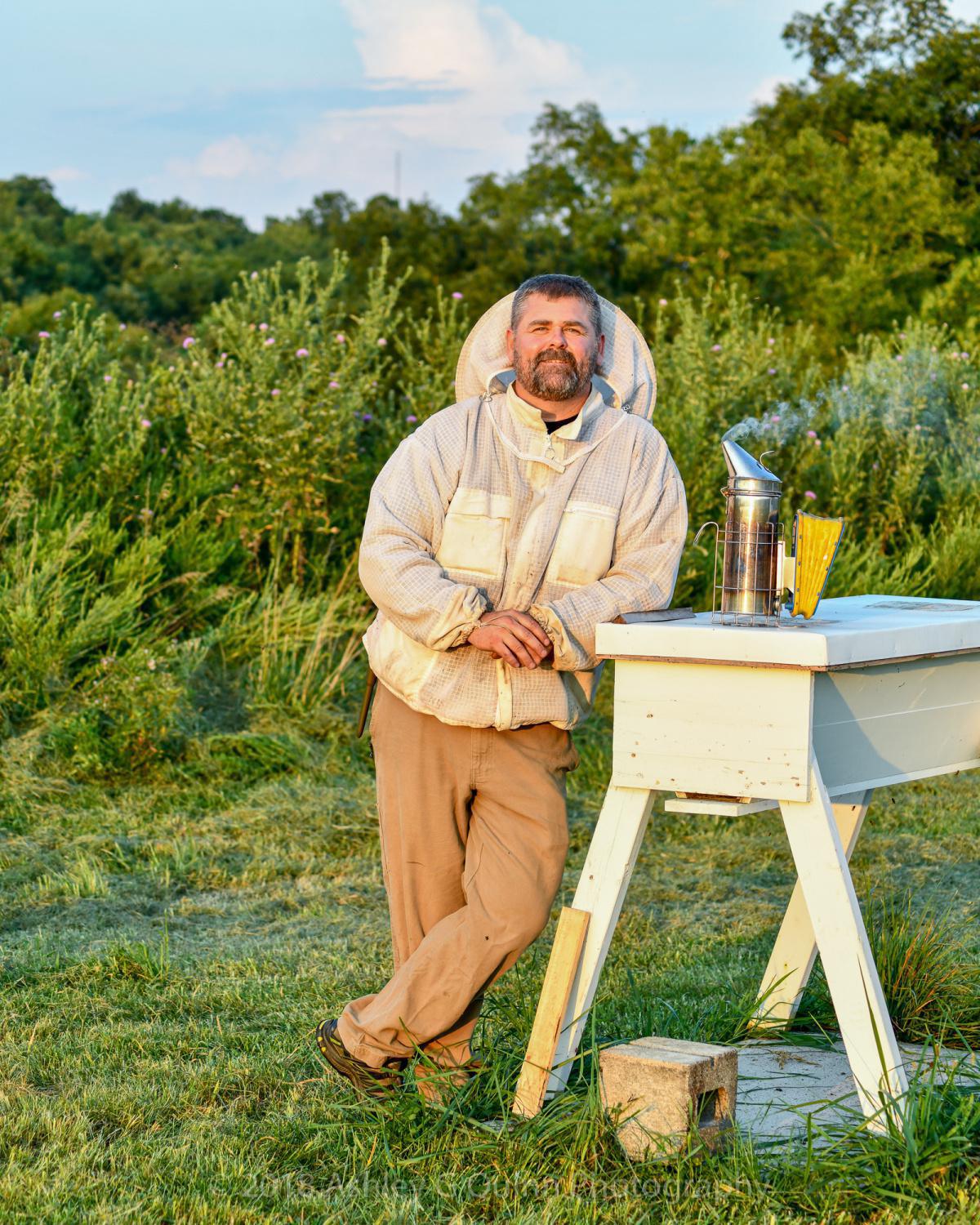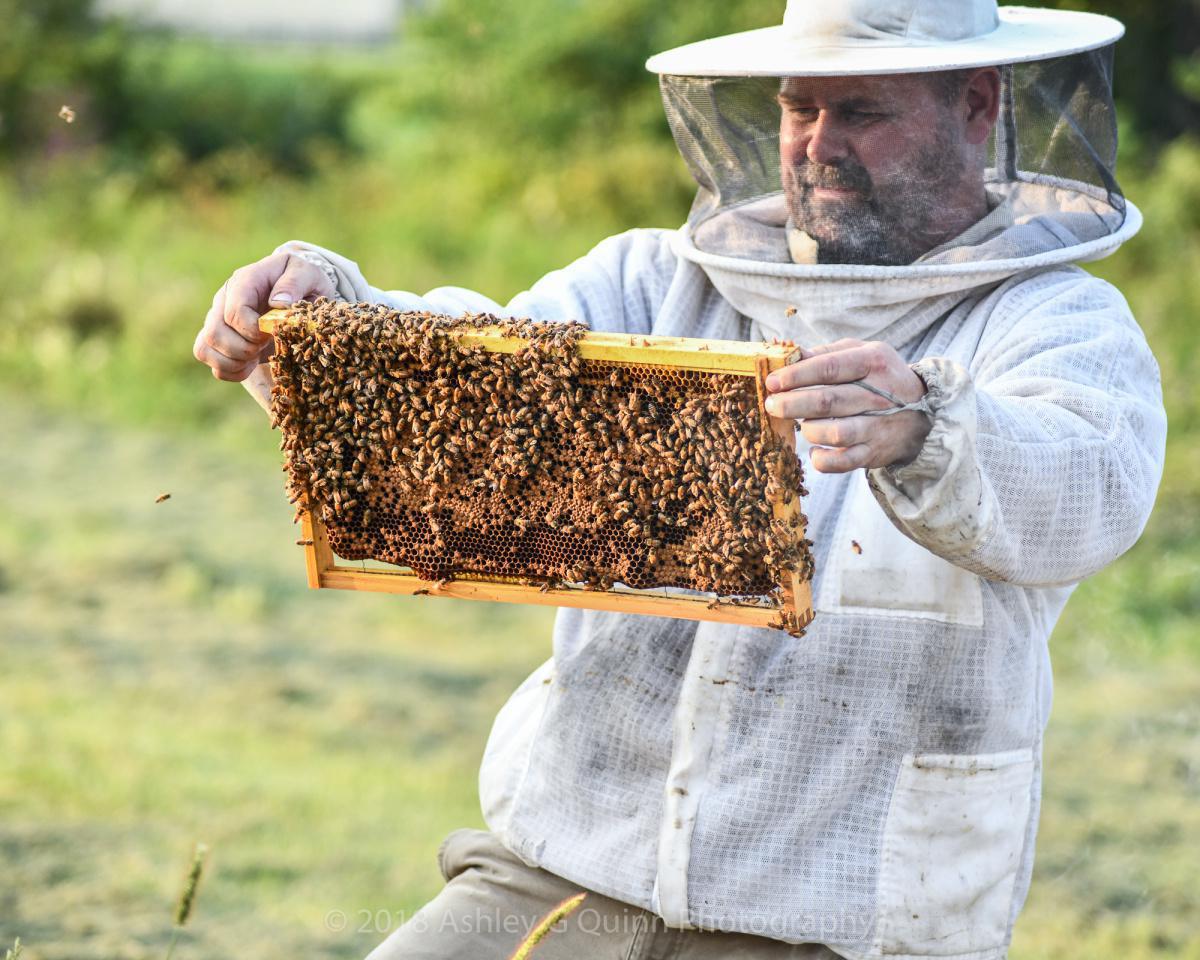 Where would we be if we didn't have bees? It's the question area native and Northeast Kentucky Beekeepers President Mike Crawford asked himself in 2010.
"I was at a soccer game and saw a swarm of bees," Crawford recalls. Finding himself captivated by these tiny creatures, he attributes this small interaction as the catalyst that led him to a big passion.
After following his curiosity and conducting his own research, Crawford began his bee pursuit and purchased his first hive in 2010. As time marched forward, Crawford's passion continued to blossom and in 2015, an opportunity arose to begin a bee association in the area.
As a result, the Northeast Kentucky Beekeepers Association was born. "We began with six people and now average 50 regular attendees and participants," Crawford said. "Our popularity is growing!"
One main goal for the association is education. Classes are held at every monthly meeting and an all day school is held twice a year for those really wanting to dive in. "We are comprised of beginners and advanced beekeepers, and we are the only association with an outdoor classroom within a 200-mile radius," Crawford said. This classroom is unique and comes equipped with a bee apiary overseen by Northeast Kentucky Bee Association Apiarist Chuck Hennecke. This classroom commodity allows area beekeepers to keep their bees on site.
For the past two years, Crawford has taken a special interest in raising queen bees, which are genetically engineered to fight mites. "Bringing in good genetics is essential in reestablishing the bee population," Crawford states.
With bees on the decline, Crawford is passionate about informing the public why this is occurring. "There are many factors contributing to the declination of the bee population. However, the vero mite holds a firm position at the top of the list," he said.
This particular mite was brought to the United States upon receiving an illegal shipment of bees from overseas in the 1980s. It has since wiped out numerous hives across the U.S.
"Good genetics that fight mites are extremely important to the survival of the bee population," Crawford says.
According to Crawford, the main issue they now fight is mail order bees that come from breeders not concerned with genetics. "Mail order bees mess with the entire process," Crawford said.
Crawford and other fellow area beekeepers are passionate about informing the public of the dangers surrounding mail order bees.
They maintain it's always a good idea to buy bees locally from local beekeepers for a variety of reasons. First and foremost, the genetics are better. Secondly, the bees are healthier. And thirdly, buying local bees from local beekeepers supports local farming. Without the highly essential process of pollination, we wouldn't have thriving farmlands.
Fun fact: Did you know you wouldn't have one out of every three bites of food if it weren't for the honeybee pollination?
"Bees normally fly within a two to three mile radius, and they are pollinating everything within that area as they fly," Crawford said. "Pollination grows bigger, healthier plants and everything simply grows better!" he said.
Crawford is also passionate about sharing the phenomenal design of the hives. "They are intricate structures that function by careful design. Everyone has a job," he explained. "There are worker bees, guard bees, cleaner bees and, of course, the queen. There are queen attendants who clean, feed and protect her. There are drone bees, whose only job is to mate with her."
"The list goes on and on and the entire process is fascinating," Crawford maintains. In addition to cleaning up bee genetics and improving the area by educating the public, Crawford enjoys one more fun aspect of the beekeeping process. The honey! Since beginning eight years ago, Crawford now owns 30 hives.
Fun fact: Did you know one beehive produces 60-80 pounds of excess honey?
Honey is collected from the hives twice a year and sold by Crawford and other area beekeepers alike. When shopping for local honey, Crawford gives a friendly tip. "When looking to buy real, local honey, always ask if it was produced within a 30-mile radius of where you live."
Crawford says that true local honey is extremely useful for improving all kinds of medical conditions but only if it contains the pollen from your surrounding area.
All in all, the Northeast Kentucky Bee Association is totally geared toward improving the overall quality of our beautiful area by promoting education and backyard bee keeping.
For those interested in learning more, inquirers may check out Crawford's personal website Crawfordsbeefarm.com or visit the Northeast Kentucky Bee Association Facebook page. Information may also be found at NEKYBeekeepers.com.
Beekeeper meetings are held at the Boyd County Fairgrounds the first Monday night of every month, beginning at 6:00 p.m. "Everyone is welcome!" says Crawford.